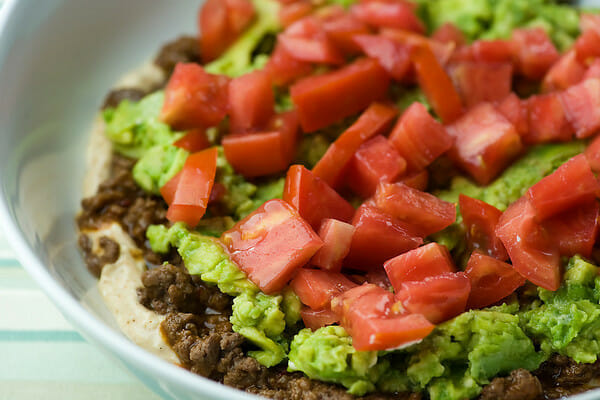 2 pounds ground beef
1 16 oz jar taco sauce
1 16 ounce container sour cream
1 8 oz package cream cheese
1 package taco seasoning mix
2 medium avocados
2 tablespoons lemon juice
1 16 oz package shredded cheddar
1 cup shredded lettuce
1 chopped tomato
Brown ground beef and drain. Return to skillet and stir in taco sauce.
In a large bowl, combine sour cream, cream cheese and taco seasoning. Spread over bottom of large serving dish. Spread ground beef over sour cream layer.
Mash avocados with lemon juice. Spread over beef layer.
Sprinkle cheese over avocado layer, scatter tomatoes over cheese layer, finish with layer of shredded lettuce
Serve with tortilla chips and/or soft corn tacos.
Serves a crowd. Can be halved or quartered. Or doubled or tripled.
{Please close floating ads before printing.}
---
Article printed from Framed Cooks: http://www.framedcooks.com