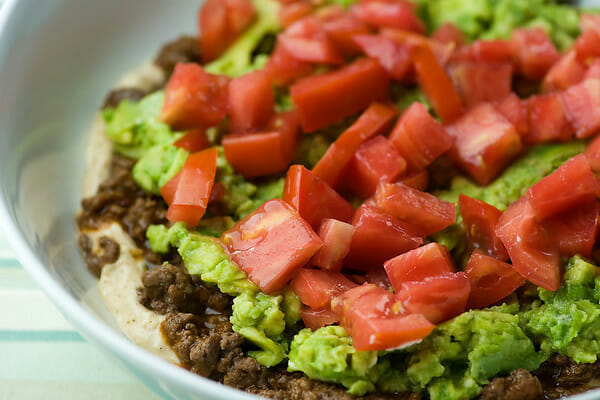 We were SUPPOSED to go out to dinner last Saturday night. I was all set to hit my favorite Mexican restaurant, the one were they give you the free quesadillas when you come in, and the free fried banana in a sugared tortilla with whipped cream and honey at the end. But then my teenager appeared in my living room and mentioned that she had asked if she could have several thousand of her friends over, that they were arriving at 6, and remember Mom? You said yes?
I'm sure I did. My short term memory has started blocking out things like giant hordes of teenagers coming over on nights when I am yearning for tacos. But being the responsible parents that we are, we resigned ourselves to staying home. Or I resigned myself, anyway — my Southern husband practically danced back into the living room to finish watching the Yankees/Red Sox game, which was only half over.
So, what to make for dinner with stuff I had on hand? Something that would address my unrequited Mexican food longings? I realized I had all the fixings for one of my favorite things to bring to potluck parties: Mexican layered salad. It is half taco salad, half dip, and perfect for eating in front of a baseball game. (Which turned into watching the movie version of BRIDESHEAD REVISITED once the game was over, because fair is fair.)
This is exactly as described — layers of the various things found in tacos, or taco salad or dips, all in one bowl and served with tortilla chips, although I also put out some soft corn tortillas to wrap around spoonfuls of it. You can see most of the layers in the above picture — a layer of sour cream and cream cheese mixed with taco seasoning, a layer of spiced ground beef on top of that, a layer of guacamole, a layer of shredded cheddar on top of that (I forgot that one in the picture shot but I added it back later!), a layer of tomatoes, finished with a topping of chopped lettuce (see picture below). Set it all out with some tortilla chips and/or soft tortillas, some napkins, and dig in – make sure you dig all the way to the bottom to get the full effect.
Maybe a Saturday night at home isn't so bad after all.
Print
Ingredients
2 pounds ground beef
1 16 oz jar taco sauce
1 16 ounce container sour cream
1 8 oz package cream cheese
1 package taco seasoning mix
2 medium avocados
2 tablespoons lemon juice
1 16 oz package shredded cheddar
1 cup shredded lettuce
1 chopped tomato
---
Instructions
Brown ground beef and drain. Return to skillet and stir in taco sauce.
In a large bowl, combine sour cream, cream cheese and taco seasoning. Spread over bottom of large serving dish. Spread ground beef over sour cream layer.
Mash avocados with lemon juice. Spread over beef layer.
Sprinkle cheese over avocado layer, scatter tomatoes over cheese layer, finish with layer of shredded lettuce
Serve with tortilla chips and/or soft corn tacos.
Notes
Serves a crowd. Can be halved or quartered. Or doubled or tripled.