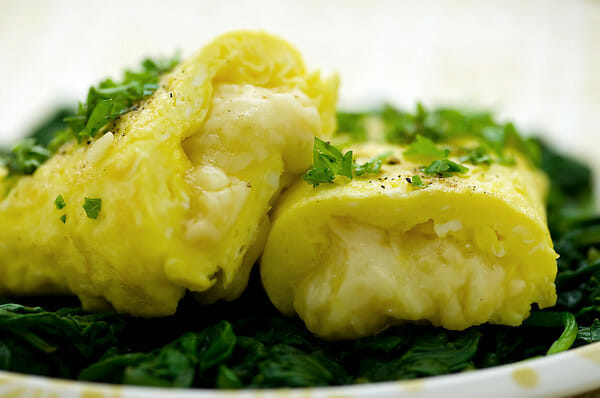 3 eggs
1 tablespoon butter, diced and put into the freezer f0r 10 minutes
¼ cup shredded Gruyere cheese
Fresh ground pepper
Chopped parsley
1. Preheat oven to 200 and heat plate or plates that you will be serving the omelet(s) on.
2. Heat 8 inch skillet over medium low heat for 10 minutes
3. Break two eggs into bowl. Separate third egg and add yolk only to bowl. Whisk until yolks and whites are thoroughly combined.
4. Add half of cold butter to egg mixture
5. Add second half of butter to skillet and wait until it has melted and foam has subsided
6. Pour egg into skillet. Using chopsticks, swirl egg mixture around, making sure to pull from sides, until egg is almost cooked, about 90 seconds
7. Turn off heat and smooth top of egg with spatula. Sprinkle on cheese and pepper and cover pan with lid. Let sit covered for another 90 seconds.
8. Here comes the ONLY tricky part, and it is not that tricky. Put a folded paper towel over half of the warmed plate. Loosen the omelet with your spatula and slide it on to the plate so it is half on the paper towel and half off. Using the paper towel, roll the omelet up into a cylinder. I promise it will hold together. If it doesn't, I will make another one FOR you.
9. I like to cut the omelet in half but up to you! Serve either plain or on a bed of cooked spinach, with chopped parsley and more fresh ground pepper on top.