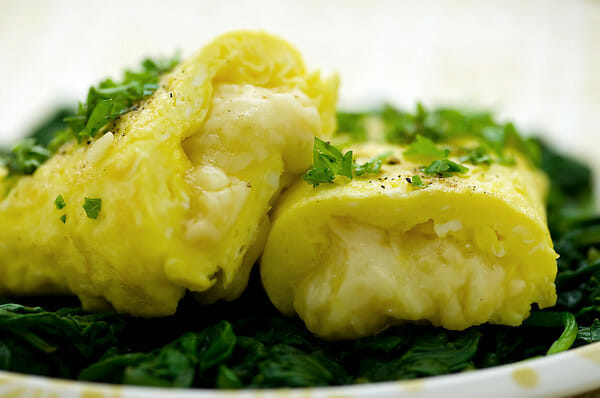 Why are these called French omelets? Je ne sais pas. (That's French for, I have no earthly idea.) But that is what the recipe calls them, and so who am I to argue.
I love omelets. Or I should say, I love EATING omelets. I have a love/hate relationship with actually cooking them — when they come out looking good I feel very very good, and when they are bad, they are horrid. I have never managed to master the whole omelet pan slide it onto the plate and flip it over thing. It always looks so easy, but for me it usually ends in tears.
And so. I have distilled my omelet-making down into two very different techniques.
The first will probably horrify half of you and make the other half of you laugh, but I promise you, it WORKS. These omelets are not photogenic and I would never attempt to take a picture of them, although I probably should have for the sheer shock value. This omelet approach is called "omelet in a bag," and before all of you start emailing me, yes, I know it is slightly alarming to eat something that has been cooked inside a Ziplock, but I gotta tell you, this method turns out slightly unslightly but perfectly cooked, fluffy omelets Every Single Time. And so for those of you who want to walk on the wild side, here is a link for you:
Washington Post's Omelet in a Bag
For those of you who prefer cooking an omelet with the more traditional skillet on the stove approach, I highly recommend the French Omelet recipe (and that is the omelet you see resting in that lovely bed of baby spinach above). It is rolled, rather than flipped, and somehow that seems to work out for me every time. It is filled with Gruyere cheese, which as you can see melts just beautifully out of the center. Because you can only make one at a time (or at least, I can only make one at a time), be sure to keep your plates warming in a 200 degree oven, and you can park the cooked omelets in there while you work on the others. The chopstick direction sounds funky, I know, but trust me on that. It works.
FRENCH OMELETS, adapted from a Cooks Illustrated recipe
French Omelets
Ingredients
3 eggs
1 tablespoon butter, diced and put into the freezer f0r 10 minutes
¼ cup shredded Gruyere cheese
Fresh ground pepper
Chopped parsley
Instructions
Preheat oven to 200 and heat plate or plates that you will be serving the omelet(s) on.
Heat 8 inch skillet over medium low heat for 10 minutes
Break two eggs into bowl. Separate third egg and add yolk only to bowl. Whisk until yolks and whites are thoroughly combined.
Add half of cold butter to egg mixture
Add second half of butter to skillet and wait until it has melted and foam has subsided
Pour egg into skillet. Using chopsticks, swirl egg mixture around, making sure to pull from sides, until egg is almost cooked, about 90 seconds
Turn off heat and smooth top of egg with spatula. Sprinkle on cheese and pepper and cover pan with lid. Let sit covered for another 90 seconds.
Here comes the ONLY tricky part, and it is not that tricky. Put a folded paper towel over half of the warmed plate. Loosen the omelet with your spatula and slide it on to the plate so it is half on the paper towel and half off. Using the paper towel, roll the omelet up into a cylinder. I promise it will hold together. If it doesn't, I will make another one FOR you.
I like to cut the omelet in half but up to you! Serve either plain or on a bed of cooked spinach, with chopped parsley and more fresh ground pepper on top.