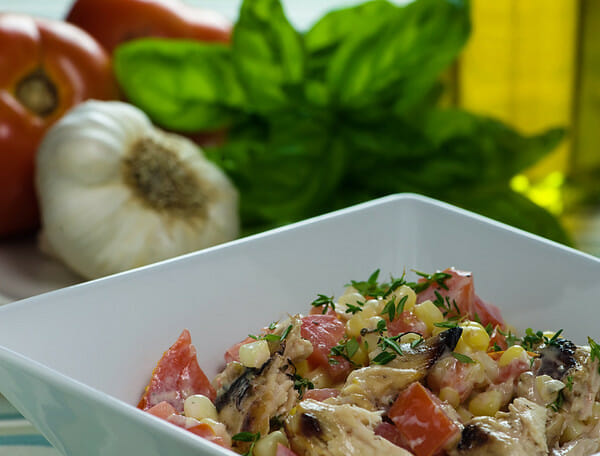 4 ounces crumbled mild goat cheese
2 tablespoons olive oil
2 tablespoons sour cream
3 tablespoons milk
2 teaspoons white wine vinegar
1 clove garlic, minced
3 tablespoons fresh thyme leaves
½ teaspoon salt
¼ teaspoon fresh ground pepper
4 chicken breast halves, grilled and shredded into bite size pieces
2 ears of corn, kernels removed and cooked
1 large tomato, chopped
1. In food processor, puree cheese, oil, sour cream, milk, vinegar, garlic, salt, pepper and two tablespoons of thyme until smooth. Thin with more milk if needed until it is the consistency of thick salad dressing.
2. Place chicken, corn and tomato in large bowl and toss with dressing.
3. Serve with the rest of the thyme sprinkled on top.