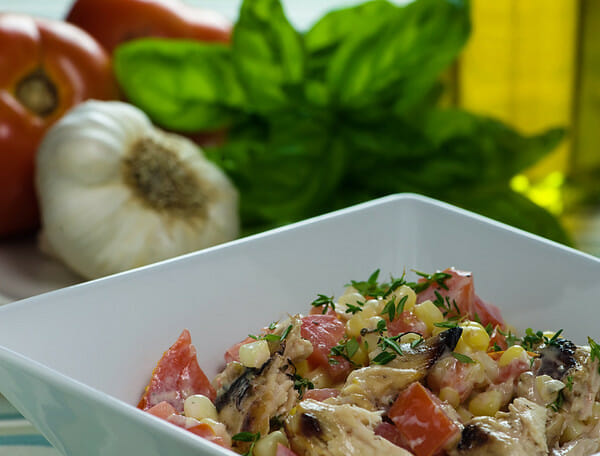 One of the cardinal rules of my kitchen is, if we are grilling chicken, we make extra. I have an entire collection of recipes that call for cooked chicken as one of the ingredients, and pretty much no matter what it is, if the chicken is grilled it is twice as good.The ever-helpful Southern husband grilled chicken early in the week, so I had a nice supply of the extra in the fridge. Note: this only works if you say in a very firm voice, "I am using the leftover chicken for another supper in a few days, so please don't EAT it." I speak from experience.
Anyway, I also had some corn and tomatoes from our local farm market, and a nice hunk of goat cheese from Fairway, and so this tasty little salad came together in two shakes. Fresh thyme is essential for the nice flavor of this one, and luckily I have it in abundance in my herb garden, so all set there. We had the salad with some cracked peppercorn flatbread and a glass of Malbec wine, which I just discovered a few weeks ago. Malbec is an Argentinian wine that has flavors of black cherry and chocolate. But you probably knew that already and I am the last one to find it out.
So next time you grill chicken, make a few extra pieces and then try this salad, while the corn and tomatoes are still all around us. These lazy hazy days of summer are going by all too fast…
CHICKEN SALAD WITH CORN, TOMATOES AND GOAT CHEESE DRESSING
Chicken Salad with Corn, Tomatoes and Goat Cheese Dressing
Ingredients
4 ounces crumbled mild goat cheese
2 tablespoons olive oil
2 tablespoons sour cream
3 tablespoons milk
2 teaspoons white wine vinegar
1 clove garlic, minced
3 tablespoons fresh thyme leaves
½ teaspoon salt
¼ teaspoon fresh ground pepper
4 chicken breast halves, grilled and shredded into bite size pieces
2 ears of corn, kernels removed and cooked
1 large tomato, chopped
Instructions
In food processor, puree cheese, oil, sour cream, milk, vinegar, garlic, salt, pepper and two tablespoons of thyme until smooth. Thin with more milk if needed until it is the consistency of thick salad dressing.
Place chicken, corn and tomato in large bowl and toss with dressing.
Serve with the rest of the thyme sprinkled on top.