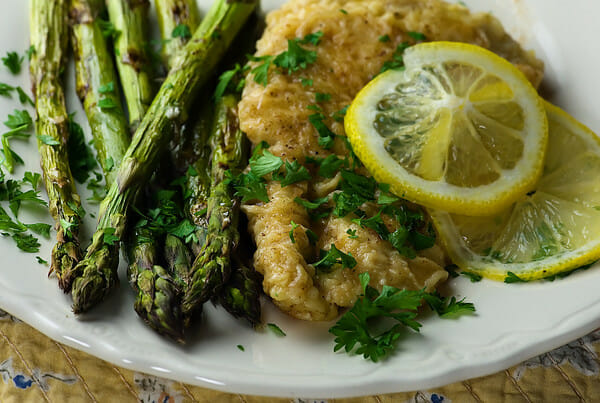 4 skinless, boneless chicken breasts, about ½ inch thick
1 egg
3 tablespoons fresh lemon juice
¼ cup all-purpose flour
⅛ teaspoon pepper
¼ cup butter
½ cup chicken stock
1. In a small bowl, beat the egg together with 1 tablespoon of the lemon juice. Set aside.
2. Mix up the flour and pepper. Dip the chicken in the egg/lemon mixture, then in the flour.
3. Melt the butter in a large pan and brown the coated chicken pieces.
4. Add the remaining 2 tablespoons of lemon juice to the chicken broth and pour liquid into skillet. Cover and let simmer for 20 minutes, turning chicken pieces after 10 minutes, until chicken is tender. Garnish with lemon slices and fresh parsley.