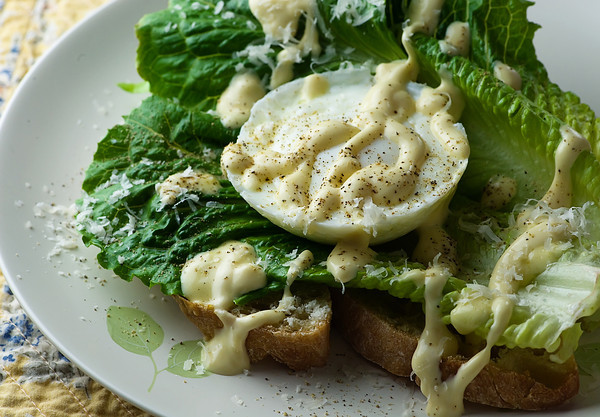 ¼ cup mayonnaise
1 minced garlic clove
1 tablespoon lemon juice
½ teaspoon Worcestershire sauce
½ cup grated Parmesan
½ cup olive oil plus extra for drizzling
4 slices country bread, lightly toasted
Romaine lettuce leaves
4 to 8 poached eggs, depending if you are using one or two per salad
1. Put mayo, garlic, lemon juice, Worcestershire sauce and 2 tablespoons cheese in food processor and blend until smooth. Add oil in a steady stream until creamy and emulsified. Season with salt and pepper to taste.
2. Lay bread on plates. Drizzle with olive oil and season with salt and pepper.
3. Lay lettuce leaves on top of bread, and top lettuce with egg or eggs.
4. Drizzled dressing over all. Grind pepper on top, and scatter remaining cheese over eggs. Serve immediately.