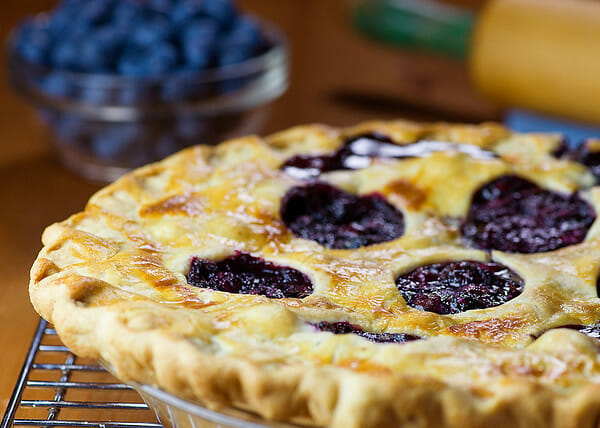 Oh blueberries, blueberries, I just love you. I have no self-control when I pass those stacks of cardboard containers of blueberries in our local farmer's market. Last weekend I wasn't even satisfied with one of them, I had to buy TWO. Because you never know, next week they might be GONE. The sensible Southern husband started to very gently suggest that maybe one was enough, but I think he caught the look of panic in my eyes and backed off quickly. He was probably counting his blessings that they weren't flat screen tv's, or Manalo Blahniks. At least if I am going to be obsessive about something, it only costs 4 bucks a container.
Anyway.
Here I was for the second weekend in a row with about 8 cups of gorgeous, fat, juicy blueberries, and you know what that means.
PIE!!!
Even though I have the world's only blueberry-loving dog, who was more than willing to do her part with the blueberry-eating.
I am always looking for the next great blueberry pie recipe — it's kind of like macaroni and cheese. The last one you made was probably just fine…but there could be another one that is even better! I have a crumb-topped one that is pretty fantastic, but this time I wanted to try a version that had the straightforward top crust. I am way too impatient to do the lattice version, but you do need some holes for the steam to escape if you don't want to deal with a potential blueberry explosion in your oven. I usually just make holes in the top crust using a little cookie cutter (in this case I just used the top of a spice jar). Just make sure you make enough of them to allow for enough breathing room — usually around 6 or 8.
There are many many many schools of thought about what kind of thickener to use in blueberry pies — after various trial and error I keep coming back to good old instant tapioca. Blueberries are juicy little numbers, and while you CAN use all kinds of things to make the filling hang together like it has been sprayed with AquaNet, I prefer just a little thickener, and am willing to live with the fact that my slices of pie are going to spread themselves out on the plate a little bit. Note that there is no elegant picture of a SLICE of pie with this post…my pie slices may not be ready for their close-up, but man, do they taste good. If I do say so myself.
So go ahead, give in to that blueberry longing and pile those boxes up in your shopping cart. Blueberry season is all too short not to live it up a little.
BLUEBERRY PIE
Print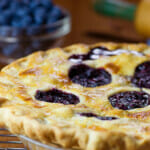 Blueberry Pie
---
Ingredients
Rolled out unbaked piecrust – your favorite recipe or store-bought
3 cups fresh blueberries
3/4 cup sugar
1 tablespoon freshly grated lemon peel
1 tablespoon fresh lemon juice
3 tablespoons instant tapioca
2 tablespoons butter
1 egg lightly beaten with 1 teaspoon water
---
Instructions
Place bottom pie crust dough in 9 inch pie plate
Preheat oven to 400
Wash and drain berries and toss with sugar, lemon peel, lemon juice and tapioca. Let stand for 15 minutes
Pour berry mixture into the crust and dot with butter
Cut 6-8 holes in the top crust with a small cookie cutter or jar lid. Ease top crust over top of pie. Crimp edges together to seal.
Brush top of pie crust with egg mixture.
Bake at 400 for 30 minutes. Reduce heat to 350 and and cook another 30 minutes until crust is golden brown.
Cool for 3-4 hours and then serve with vanilla ice cream.