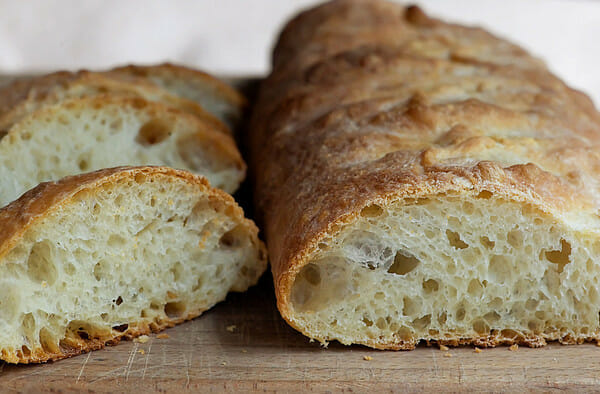 I have always been a total coward when it comes to baking bread. My general approach goes something like this:
"Mom, would you bake some bread for me?"
And it magically appears, and is perfect every time. My mother is a genius when it comes to bread-baking. And other things, but she is FAMOUS for her amazing bread. And I know she just loves making it for me (right, Mom??), which is why I was a little surprised when she emailed me the recipe for King Arthur Flour's Almost No-Knead Baguettes, but I guess everyone needs to get pushed out of the nest at some point, right? Even though I am pretty certain she will let me climb back in whenever I want to, bread-wise. But I read it over and it looked like even a big old bread coward like me might stand a chance, and I did have a bag of King Arthur Flour in the kitchen, which seemed like a Sign. So…what the heck.
This is one of those recipes where you trade in the kneading for hours and hours of waiting. The dough comes together in no time, with almost no kneading. Then it rises. Then it goes into the fridge for 100 years. I mean 24 hours. Then it rises again. Then you bake it, and voila! Beautiful, golden, aromatic bread — crunchy on the outside, light and fluffy on the inside, and gone in under 30 minutes.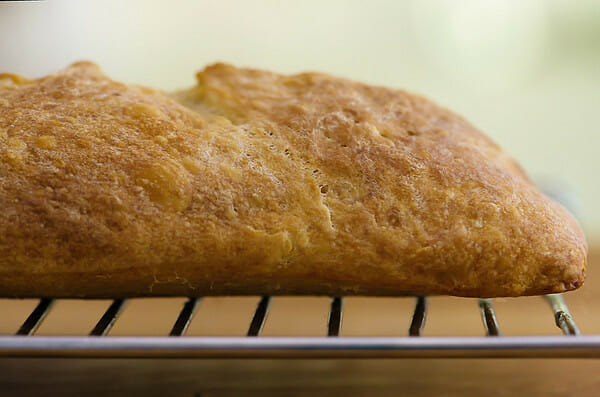 I had some of my favorite handmade butter (not handmade by me!) and some of our favorite cheese (D'Affinois, and if you have never tried this cheese, go get some RIGHT THIS MINUTE. Fairway.) Anyway, this dough recipe makes four loaves and you can keep it in the fridge for up to 7 days, according to King Arthur. I have another loaf rising on the counter right this second, and I have already given the helpful Southern husband bread-dough-shaping instructions for the loaf he is going to make out of the dough later this week. This almost seems too good to be true, doesn't it?
So thanks, Mom — my bread-making phobia is gone! I'm cured!
Now would you make me some scones?
King Arthur's Almost No-Knead Baguette