Sliders with Bacon and Horseradish Sauce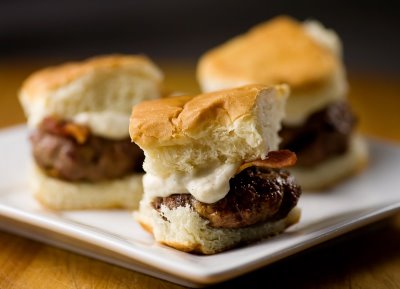 12 ounces ground beef chuck
12 ounces ground sirloin
2 teaspoons minced garlic
¼ cup minced onion
1¼ teaspoon salt
½ plus ⅛ teaspoon fresh ground pepper
½ cup mayonnaise
2 tablespoons sour cream
2 tablespoons horseradish
12 dinner roll sized brioche buns (or 4 hot dog rolls cut in thirds)
2 tablespoons butter, melted
6 slices bacon, cooked until crisp, drained and broken into 2 inch pieces
1. Combine chuck, sirloin, garlic, onion, 1 teaspoon salt and ½ teaspoon pepper. Mix gently but thoroughly to combine. Using a ¼ cup measure, divide mixture into 12 portions. Shape into small patties, 3 inches wide and ⅜ inch thick. Place on plate, cover with plastic wrap and refrigerate for at least one hour or up to overnight.
2. Whisk together mayo, sour cream and horseradish. Add remaining salt and pepper. Cover and refrigerate until ready to serve (up to 3 days in advance).
3. Preheat grill to high.
4. Lightly brush cut sides of buns with butter. Wrap buns in foil and place on coolest part of the grill to warm while you cook the burgers.
5. Grill the burgers for about 2 minutes per side for medium. Transfer to bottom part of buns and garnish with bacon. Spoon a dollop of horseradish cream over the bacon and place bun tops over all. Serve hot.
{Please close floating ads before printing.}
---
Article printed from Framed Cooks: http://www.framedcooks.com