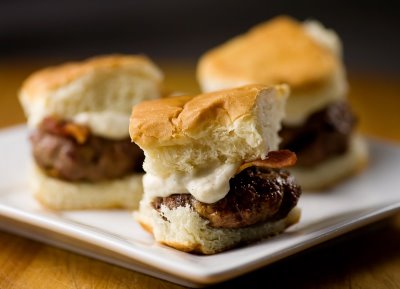 A while back I had the privilege of working with the phenomenal Emeril LaGasse on a series of children's cookbooks, and it was one of the pure pleasures of my life. Emeril is an absolute artist in the kitchen. I can honestly, definitively say that the food I ate at the various events where he cooked was the best I have ever tasted. He has an amazing gift for putting foods together in simple but perfect combinations that make you want to just sing and dance when you taste them.
So when I heard Emeril had a new cookbook, and one that revolves around the grill…oh baby. I thought I would just start on page one and work my way right through to the end, but I was totally sidetracked by page 100. Sirloin Sliders with Crisp Bacon and Creamy Horseradish Mayo. don'tyou just want to weep with happiness at the prospect of one of those babies? So last night my husband fired up the old Lazyman grill and we gave this recipe a try, and Emeril? Once again, you ROCK.
I followed the directions to a T (because who am I to question the Master), except that I used hot dog rolls instead of the brioche or dinner rolls — simply take side-cut hot dog rolls and cut them in thirds, they will be the perfect size. I've included the recipe below because I know it would be total torture to tease you with that picture up there and then not share, but believe me when I say this book is jam-packed with recipes that look just as sensational. Run, do not walk to wherever books are sold and pick this one up — it is essential reading for anyone who has both a grill and tastebuds. Click link below for more info:
Sliders with Bacon and Horseradish Sauce
Ingredients
12 ounces ground beef chuck
12 ounces ground sirloin
2 teaspoons minced garlic
¼ cup minced onion
1¼ teaspoon salt
½ plus ⅛ teaspoon fresh ground pepper
½ cup mayonnaise
2 tablespoons sour cream
2 tablespoons horseradish
12 dinner roll sized brioche buns (or 4 hot dog rolls cut in thirds)
2 tablespoons butter, melted
6 slices bacon, cooked until crisp, drained and broken into 2 inch pieces
Instructions
Combine chuck, sirloin, garlic, onion, 1 teaspoon salt and ½ teaspoon pepper. Mix gently but thoroughly to combine. Using a ¼ cup measure, divide mixture into 12 portions. Shape into small patties, 3 inches wide and ⅜ inch thick. Place on plate, cover with plastic wrap and refrigerate for at least one hour or up to overnight.
Whisk together mayo, sour cream and horseradish. Add remaining salt and pepper. Cover and refrigerate until ready to serve (up to 3 days in advance).
Preheat grill to high.
Lightly brush cut sides of buns with butter. Wrap buns in foil and place on coolest part of the grill to warm while you cook the burgers.
Grill the burgers for about 2 minutes per side for medium. Transfer to bottom part of buns and garnish with bacon. Spoon a dollop of horseradish cream over the bacon and place bun tops over all. Serve hot.