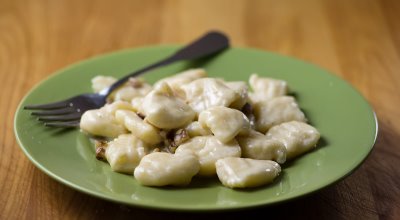 Okay, settle in, boys and girls, this is a long one. And let me start by saying that this most definitely breaks the 30 Minutes Or Under Rule that I usually have for making dinner, but I do tend to bend that rule on Sundays when I have time to really take my kitchen out for a spin. This weekend I decided that I was going to try making homemade gnocchi. I've never made it before, and I actually have not eaten it all that often, and so I knew I needed a clear afternoon to really get down into it.
So, first I needed a recipe. I have this cookbook called ITALY AL DENTE by Biba Caggiano, and the subtitle is "Pasta, Risotto, Gnocchi, Polenta, Soup." Bingo. I read the chapter on gnocchi and learned there are two basic types: potato and ricotta. Biba advises neophytes like me to start with ricotta. The recipe is pretty basic.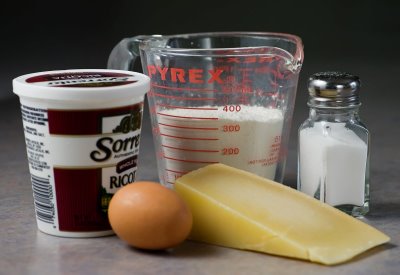 16 ounces whole milk ricotta, a cup and a half of flour, 2 teaspoons salt, one egg and 1/3 cup of freshly grated Parmagiano cheese.
Mix it all up together until you have a wet dough.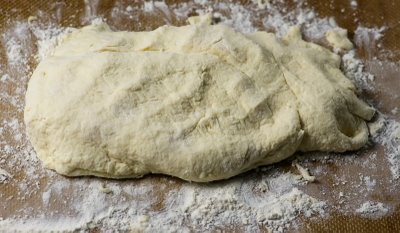 Then knead it for about 2 minutes until it feels pliable and smooth. I was a little wary of this particular direction, but actually you recognize it when it happens.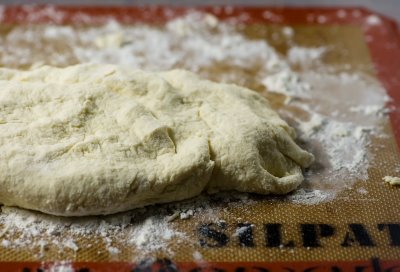 I would like to pause at this moment for a moment on one of God's gifts to cooks, which is the Silpat. That is my beloved Silpat you see in the picture above. The recipe said to do all this kneading on a wooden board, but I have been around the block enough to know that when it comes to dealing with sticky anything, you can't do better than a Silpat. They are silicone (I think) mats that are roughly the size of a cookie sheet, and nothing — I mean nothing — sticks to these suckers. Pie crusts, chocolate chip cookies, candied walnuts, now sticky gnocchi dough — my Silpat has seen it all, and has never, ever let me down. If you don't already have one — or four, like me — you NEED one. Trust me.
Meanwhile, back at the gnocchi. Next Biba told me to divide the dough into sections. Being a gnocchi newbie, I cut my dough into three sections.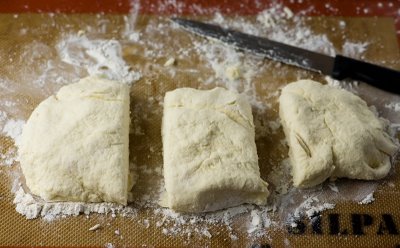 Which once I started the next step I realized should have been more like 6 sections (easily remedied). Next step was to roll the sections into long ropes, about the width of your finger, stretching as you roll. Stretching as you roll? This took me about 5 ropes to figure out, but I got there.
Then you cut your rolls into one inch pieces.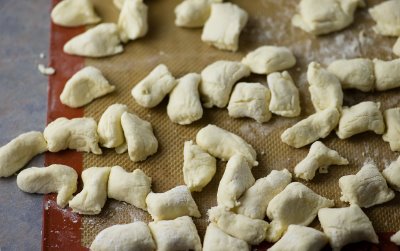 Then you take a fork, face it downward and away from you and press each of these little pieces onto the tines of the fork, forming little grooves. The better to hold the sauce, Biba says.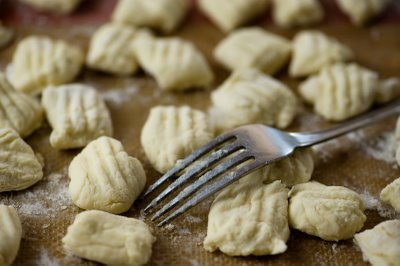 There they are, my adorable little gnocchi's! (or is the plural "gnocchi?" I should look that up.)
Meanwhile, back at the ranch, I needed a sauce. Apparently gnocchi is a cooperative little pasta that works well with a simple marinara sauce among other things, but I was WAAAAYYY too invested at this point to let myself off that easily. I settled on a walnut gorgonzola sauce that sounded just sinful.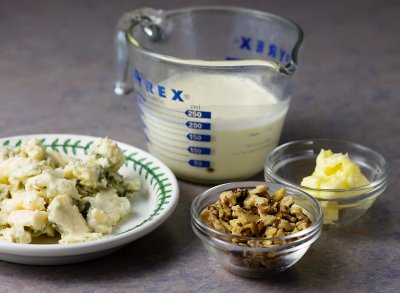 Chopped walnuts that I roasted in a 375 oven for three minutes. 3/4 cup heavy cream and 3 tablespoons of my really good butter. And best of all, 3 ounces of what the cheese guy at Fairway swore to me was the best creamy Gorgonzola in the place. Gorgonzola Dolce, direct from Italy to the Fairway in Paramus, New Jersey, right to my kitchen counter.
Okay, then things started happening fast. First, my biggest pot got filled with water and put on to boil, so the cute little gnocchi's had enough room to swim around and not stick to each other.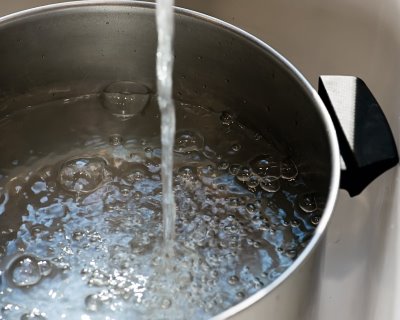 While the water was heating I started the sauce. First melt the butter over medium heat, then add the walnuts and saute for about 2 minutes. Add in the cream and the gorgonzola, give the whole thing a stir and then simmer for about 4 minutes until it thickens slightly.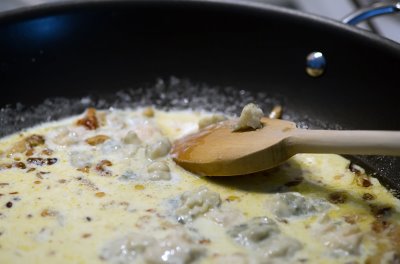 Now, I wish I had a picture of this next part because I didn't quite believe it would happen until it did, but at this point things were happening at the speed of light. As the sauce was simmering for its allotted four minutes, it was time to cook the gnocchi. You drop them into the boiling water and they sink to the bottom like little stones…and then about 2 minutes later they pop to the surface. At which point they are DONE. By the time I finished dropping the last little gnocchi into the pot, the first ones were popping up. (Phew!). The final step is to scoop them out with a slotted spoon and drop them into that simmering cheese sauce….and there you have it. Gnocchi nirvana.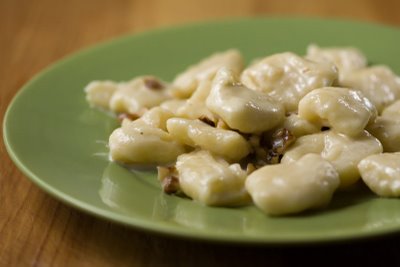 Succulent little ricotta gnocchi, coated in creamy Gorgonzola sauce with bits of roasted walnuts. Can I get an Amen?
I'm exhausted now.