Polenta with Shredded Chicken, Fontina, and Sage Butter Sauce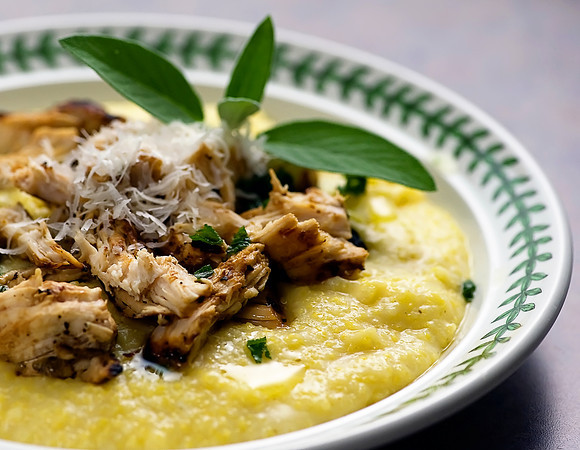 4 cups cold water
1¼ cups cornmeal
1 teaspoon salt
2 tablespoons butter
¼ cup freshly grated Parmagiano
3 ounces diced fontina cheese
5-6 sage leaves, minced
1½ to 2 cups grilled and shredded chicken breast
1. Bring water to boil and add salt. Reduce heat to medium low and pour the cornmeal into the water in a slow constant stream, whisking all the time to prevent lumps.
2. Simmer for anywhere from 10 to 30 minutes, depending on consistency of cornmeal, stirring regularly, until polenta is thick.
3. Add 1 tablespoon butter, half the Parmagiano and all the fontina. Stir until cheese is melted.
4. Melt remaining butter and stir in sage (this can be done in the microwave).
5. Spoon polenta onto plate in a nice round. Top with shredded chicken and remaining Parmagiano. Drizzle melted sage butter over top.