This easy recipe for Mexican tuna salad takes one of your favorite lunches and adds a little spice!  
One of my favorite things to do in the kitchen is to take an old favorite and to shake it up a little.  In this case, we are taking your standard garden variety tuna salad — tuna, mayo, celery — and replacing it with ingredients usually found in a taco salad.
So instead of mayo we use sour cream laced with a little cumin. Instead of celery we use salsa and chopped cucumber. All this sits on a bed of chopped iceberg lettuce. And instead of sandwich bread — warm tortillas! I fold them into cute little napkin shapes and then let folks scoop the salad into them as they go along. Half tuna sandwich, half taco, all delicious and fun. And ready in less time than it takes to eat it!
So the next time you get a hankering for tuna salad, try spicing it up a little.  Lunchtime may never be the same!
Print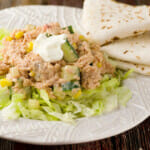 Mexican Tuna Salad
---
Yield:

4 tacos
Ingredients
4 flour tortillas
1 12 oz can tuna, drained
1/2 cup corn kernels
1/2 cucumber, chopped
1/2 cup salsa
1/3 cup sour cream, extra for garnish
1/2 teaspooon cumin
2 cups shredded iceburg lettuce
---
Instructions
Heat oven to 350. Wrap tortillas in foil and heat in oven to 10 minutes.
Meanwhile, flake tuna (this is best done with your hands. Seriously. Do it this way and you will never try it with a fork again. It's just so much more efficient.) Mix in corn and cucumbers.
Combine salsa, sour cream and cumin in a separate bowl. Gently stir salsa mixture into tuna mixture.
Scatter lettuce on plates. Mound tuna salad on lettuce, top with dollop of sour cream. Serve with warm tortillas.