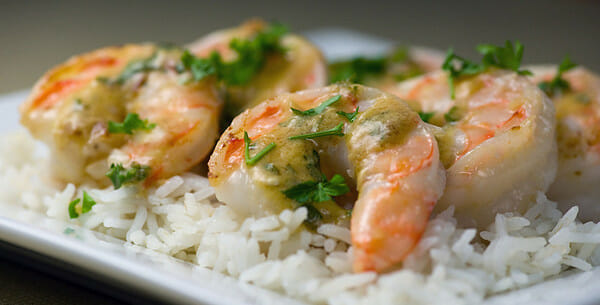 I have been making this great little recipe for ages. It's in standard rotation here at the Jacksons because it is so easy and so elegant. It's great for weekday dinners when you want to make something quick and tasty, but it is also perfect for a little (or big) dinner party, because it has a lovely little sauce that looks and tastes very ooh-la-la. Because it has just a few ingredients, it's important that all of them be fresh and lovely. So here's my suggestion for how to go about that.
Shrimp: I've said it before, I'll say it again — the absolute best place to get shrimp is Costco. I buy the great big bags (actually, I think they only come in great big bags there) and when I get home I divide them into bags of 10 each and throw them in the freezer. That way there is always a little bag-o-shrimp on hand, and when I get down to the last one I send the ever-helpful Southern husband to Costco for more. This time he came home with the shrimp, a giant bag of macadamia nuts, about 25 lemons, two dozen organic eggs and an industrial size box of Bounce. It's always entertaining to see what catches his fancy at Costco.
Lemon juice, garlic, parsley: all fresh please. Trust me, you will taste the difference.
Mustard: follow the directions and use the Dijon. It's got a little bit of white wine in it and that makes a nice impact in this recipe.
Butter: use the good stuff. I like Kate's Homemade Butter (that is an actual brand, I don't own a churn. Well actually, I DO own a churn, but it is purely decorative.) You can buy it at Whole Foods and Fairway.
Rice: I love basmati rice for this recipe, it has a great popcorn-ish flavor to it. And while we are on the topic of rice, can I just say that I ADORE my rice cooker. I held out for ages before I bought one. Who needs a whole separate appliance for cooking rice, I told myself. But my reckless Southern husband went out and got one ANYWAY and ever since then my rice has been perfect every time. And it also makes rocking great steel-cut oatmeal and cheese grits too.
So without further ado, here is one of the nicest, easiest, hardest-working recipes in my collection!
Dijon Shrimp Scampi
Ingredients
DIJON SHRIMP SCAMPI
I pound large shrimp, peeled and deveined
1 clove minced garlic
2 tablespoons butter
⅓ cup Dijon mustard
¼ cup fresh lemon juice
¼ cup chopped fresh parsley
Hot cooked rice
Instructions
Melt butter with garlic in large skillet. Saute shrimp over medium-high heat until just cooked through, about 3-5 minutes.
Blend in mustard, lemon juice and parsley and heat through.
Mound rice on place, place shrimp on rice, drizzle mustard sauce over all.