Creamy Macaroni and Cheese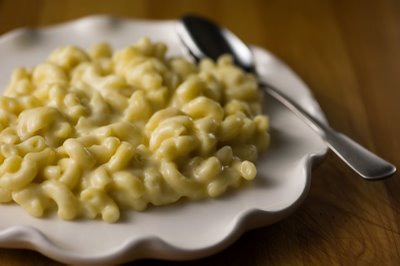 Creamy Macaroni and Cheese
Ingredients
1 pound elbow macaroni
Salt
5 tablespoons butter
6 tablespoons flour
5 cups milk
8 ounces shredded Monterey Jack
8 ounces shredded sharp Cheddar (I recommend Cabot)
Directions
1. Cook macaroni until tender in boiling salted water. Drain and set aside.
2. Heat butter in Dutch oven over medium-high heat until foaming. Add flour and whisk to combine, about one minute. Whisking constantly, add milk.
3. Bring mixture to a boil, whisking constantly. Reduce heat to medium and simmer until thickened to the consistency of heavy cream, whisking occasionally.
4. Take off heat and stir in cheeses and one teaspoon salt until cheese is fully melted. Add pasta and stir over medium low heat until heated through, 3-5 minutes.
5. Ladle into warm dishes and watch the faces light up in happiness.
{Please close floating ads before printing.}
---
Article printed from Framed Cooks: http://www.framedcooks.com