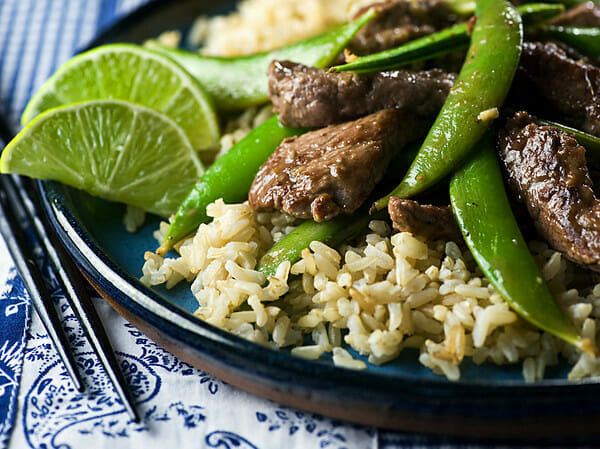 2 cups cooked brown rice (or white, if you prefer)
1 pound tenderloin steak, thinly sliced crosswise
1 tablespoon cornstarch
2 teaspoons vegetable oil
12 ounces snap peas, strings removed
5 to 6 scallions, white and green parts separated, thinly sliced diagonally
1 tablespoon grated peeled fresh ginger
¼ to ½ teaspoon red-pepper flakes
2 tablespoons fresh lime juice (from about 1 lime)
1. Ten minutes before rice is done, place steak in a medium bowl. Sprinkle with cornstarch, and season with salt and pepper; toss to coat.
2. In a large skillet, heat oil over medium-high. Cook half the steak until browned on one side, 1 to 2 minutes (steak will cook further in step 3); transfer to a plate. Repeat with remaining beef.
3. Add snap peas, white part of scallions, ginger, red-pepper flakes, and ¾ cup water to skillet; season with salt and pepper. Cook until snap peas turn bright green, 1 to 2 minutes.
4. Return steak to skillet until cooked through, 1 to 2 minutes. Remove from heat, and mix in green part of scallions and lime juice.
5. Serve with rice and lime wedges on the side.
Adapted from Beef Stir Fry with Sugar Snap Peas [3] in Everyday Food