This easy recipe for beef stir-fry with sugar snap peas will make you forget where you put that take-out menu! Full of delicious spicy flavor.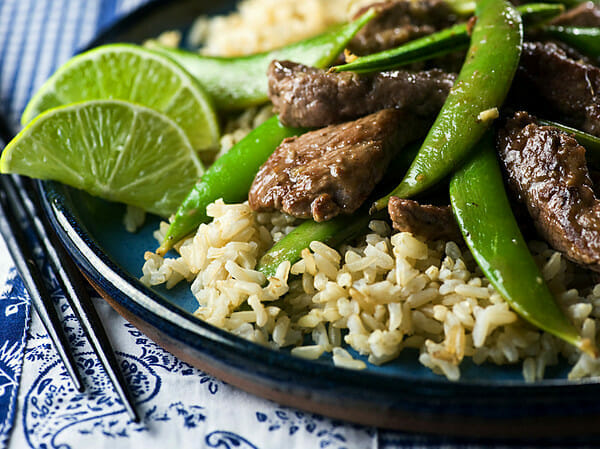 This recipe falls into my "life is short so always use the best ingredients" bucket. This is a delicious stir-fry with just a handful of ingredients, and front and center is the beef.   So in a dish like this where the meat can make it or break it, I always choose to use a tenderloin filet.
Yes, I know how much they cost. But in the great scheme of things, I think an amazing-tasting dinner is always a worthwhile investment. And trust me, using the filet will take this from a perfectly okay dinner to an amazing one. And you're worth it!
This easy recipe for beef stir-fry will make you forget where you put that take-out menu!
Click To Tweet
So, now that you have your tenderloin, make sure you get really nice sugar snaps — none of those frozen ones. As for the rice, you CAN use white rice but I like it even better with the nutty flavor of brown rice. And of course with brown rice, you get that lovely, angelic feeling of being incredibly and responsibly healthy too…bonus points!
Last but not least, I serve this one with some lime wedges on the side. I think the lime juice is one of the things that makes this dish stand out from the pack, and it's nice to have a little extra dash of lime to squeeze over the top just before you dig in. After all, if you have splurged on the tenderloin, might as well go all the way, right?
And with that, here you go…delicious AND nutritious. Yum.
Print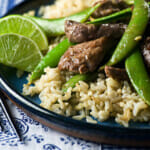 Beef Stir-Fry with Sugar Snap Peas
---
Yield:

4 servings
Ingredients
2 cups cooked brown rice (or white, if you prefer)
1 pound tenderloin steak, thinly sliced crosswise
1 tablespoon cornstarch
2 teaspoons vegetable oil
12 ounces snap peas, strings removed
5 to 6 scallions, white and green parts separated, thinly sliced diagonally
1 tablespoon grated peeled fresh ginger
1/4 to 1/2 teaspoon red-pepper flakes
2 tablespoons fresh lime juice (from about 1 lime)
---
Instructions
Ten minutes before rice is done, place steak in a medium bowl. Sprinkle with cornstarch, and season with salt and pepper; toss to coat.
In a large skillet, heat oil over medium-high. Cook half the steak until browned on one side, 1 to 2 minutes (steak will cook further in step 3); transfer to a plate. Repeat with remaining beef.
Add snap peas, white part of scallions, ginger, red-pepper flakes, and 3/4 cup water to skillet; season with salt and pepper. Cook until snap peas turn bright green, 1 to 2 minutes.
Return steak to skillet until cooked through, 1 to 2 minutes. Remove from heat, and mix in green part of scallions and lime juice.
Serve with rice and lime wedges on the side.