Artichoke Risotto with Taleggio Cheese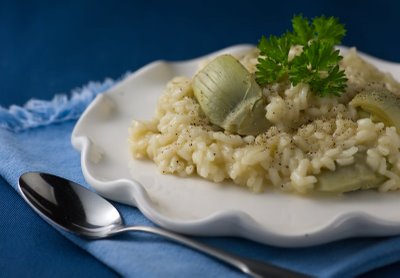 4 cups chicken broth
1 cup arborio rice
½ cup minced onion
½ cup white wine
2 tablespoons butter
1 cup frozen artichoke hearts, thawed
½ cup diced Taleggio cheese
Fresh ground pepper
1. Heat chicken broth in medium saucepan.
2. Melt 1 tablespoon butter in second medium saucepan over med-high heat. Saute onions for 2 minutes
3. Add rice to onions, saute for 2 more minutes
4. Add wine to rice and simmer until wine is absorbed
5. Start adding chicken broth, one ladle-ful at a time. Stirring constantly, wait until each ladle of liquid is absorbed before adding the next one. Continue until rice is cooked, about 20-25 minutes. If you run out of chicken broth before rice is done, add a little hot water.
6. When rice is done, stir in artichoke hearts, cheese and remaining butter.
7. Serve immediately with a grinding of fresh pepper on top.
{Please close floating ads before printing.}
---
Article printed from Framed Cooks: http://www.framedcooks.com