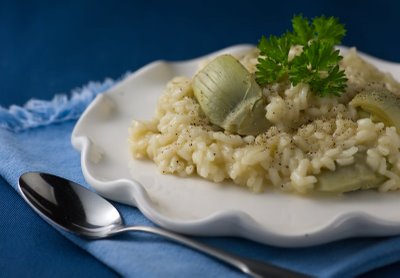 I am obviously in some sort of creamy, grainy, comfort-food-ish zone this week, because following in the footsteps of the pastina and the polenta is this nice little risotto. As with the others, it is warm and silky and completely eat-with-a-spoonable. The recipe caught my eye because it called for taleggio cheese, which I have never had before, and artichokes, which I have had many many times and love.
Risotto is definitely best made with a patient partner, because it involves a lot of stirring. And I do mean a LOT. I have seen arguments on both sides, and have heard tell that if you don't stir it constantly for the entire cooking time it will be just fine, but in this house we are taking no chances. We stir. And to be totally honest, it is my handsome Southern husband who stirs. He is a completely reliable stirrer, which leaves me free to work on the mix-ins, thereby just squeaking under the 30 minutes or under rule.
As risottos goes, this is a pretty easy one. Basic arborio rice cooked in chicken broth with minced onion, with the artichoke hearts, cheese and a little butter stirred in at the very end, and fresh ground pepper on top. Easy, easy, easy, especially with fine stirring back-up. The recipe is adapted from I LOVED, I LOST, I MADE SPAGHETTI, by Guila Melucci — and again, if you haven't read it, it's a good one!
Tomorrow I am breaking out of my creamy grainy zone and making…pasta! For which you will need a fork instead of a spoon! But for now, here's a nice comfortable risotto.
Artichoke Risotto with Taleggio Cheese
Ingredients
4 cups chicken broth
1 cup arborio rice
½ cup minced onion
½ cup white wine
2 tablespoons butter
1 cup frozen artichoke hearts, thawed
½ cup diced Taleggio cheese
Fresh ground pepper
Instructions
Heat chicken broth in medium saucepan.
Melt 1 tablespoon butter in second medium saucepan over med-high heat. Saute onions for 2 minutes
Add rice to onions, saute for 2 more minutes
Add wine to rice and simmer until wine is absorbed
Start adding chicken broth, one ladle-ful at a time. Stirring constantly, wait until each ladle of liquid is absorbed before adding the next one. Continue until rice is cooked, about 20-25 minutes. If you run out of chicken broth before rice is done, add a little hot water.
When rice is done, stir in artichoke hearts, cheese and remaining butter.
Serve immediately with a grinding of fresh pepper on top.