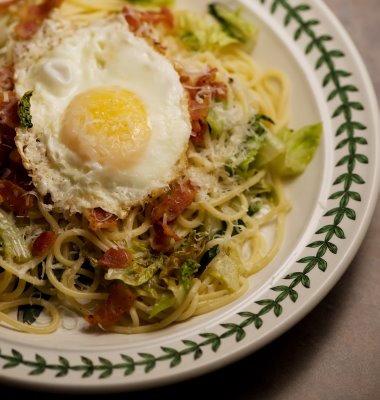 I must say that when I first saw this recipe I was a little skeptical. Sauteed lettuce? Some things are not meant to be sauteed, thought I, but as always, my adventurous Southern husband jumped in and pointed out that you never know until you try, nothing ventured nothing gained, etc etc. And since you really can't go wrong with a recipe that features bacon, we gave it a shot.
You know what?
You never know until you try. It was really, really good.
So, for all you adventurous types out there who are not intimidated by a little fried lettuce, here is a recipe well worth trying.
Spaghetti with Romaine and Fried Egg
Ingredients
Coarse salt and ground pepper
½ pound spaghetti
8 ounces bacon chopped into 1 inch pieces
I head romaine lettuce, chopped
2 tablespoons sherry vinegar
4 large eggs
Grated Parmesan cheese
Instructions
Cook pasta in boiing salted water and reserve ¼ cup pasta water. Drain and put in large bowl.
Cook bacon over medium high heat until brown. Transfer to paper-towel-lined plate. Reserve bacon fat.
Add lettuce to skillet and season with ¼ teaspoon salt and ⅛ teaspoon pepper. Cook 2 minutes until lettuce starts to wilt. Sir in vengar and transfer to bowl with pasta. Add pasta water and toss to combine.
Return skillet to medium heat. Add reserved bacon fat. Fry eggs until whites are just set and edges are golden, about 2 minutes.
Serve pasta topped with chopped bacon and then one egg per plate. Top with parmesan cheese and ground pepper.