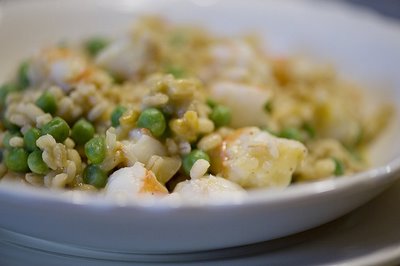 Shrimp Barley Risotto with Peas
Ingredients
1 cup pearl barley
6 cups chicken stock
2 tablespoons olive oil
1 cup chopped onion
1/2 cup white wine
12 ounces small shrimp
2 1/2 cups thawed peas
1 tablespoon grated lemon zest
2 tablespoons fresh lemon juice
1/4 cup freshly grated Parmesan cheese
1 teasoon coarse salt
Freshly ground pepper
Directions
1. Heat oil in medium saucepan over medium heat. Add onion, cook 6 minutes or until soft. Stir in barley. Add wine and cook, stirring, until liquid has evaporated.
2. Add 1/2 cup stock and cook until liquid is absorbed, stirring occasionally. Continue adding stock 1/2 cup at a time, waiting until liquid is absorbed before adding more, until barley is tender but still slightly firm, 35-40 minutes. Reserve 1/4 cup stock to stir in at the end.
3. About 3 minutes before barley is done, stir in shrimp and peas. Cook until shrimp are opaque throughout. Remove from heat and stir in remaining stock, lemon zest, lemon juice, cheese and salt. Season with pepper and serve.
Serves 6