Scallop, Orange and Cucumber Kabobs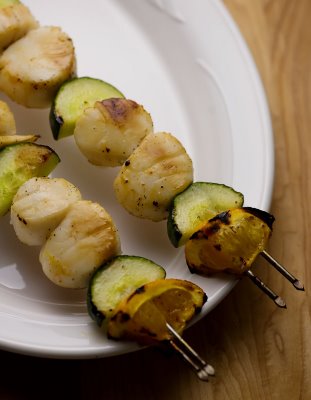 Olive oil
2 tablespoons honey
½ navel orange, halved and cut into wedges. Juice the other half and save juice for sauce.
8 thin slices peeled fresh ginger
½ cucumber, halved lengthwise and cut into ½ inch slices
1 pound large scallops
Salt and pepper
1. Heat grill to medium and oil the grates.
2. Combine honey and juice in small bowl
3. On 4 skewers, thread orange wedges (through skin), cucumber, ginger and scallops, beginning and ending with oranges
4. Season with salt and pepper
5. Grill until scallops are done, turning once or twice and basting with honey mixture throughout grilling time, about 6 minutes
6. Serve over brown or white rice.
{Please close floating ads before printing.}
---
Article printed from Framed Cooks: http://www.framedcooks.com