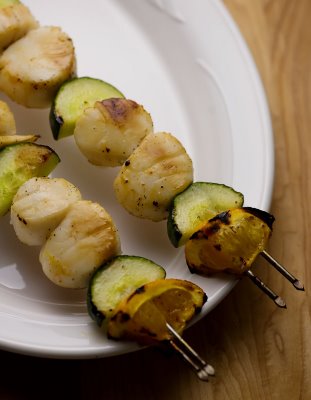 I should start by saying I am slightly kabob-phobic. Generally when I make kabobs I am using either chicken or steak and assorted vegetables, and invariably the meat is cooked right and the veggies are charred within an inch of their lives, or the veggies are perfect and the meat is, um, undercooked. Which may be fine with my carnivorous Southern husband if it is steak, but chicken…not a good scenario. So I pretty much skip over kabob recipes when I run across them, despite the fact that their general approach to life — a complete meal all cooked together on a stick — is SO in line with my kitchen mantra: SIMPLIFY.
However, I ran across this recipe in one of my favorite cooking magazines, which is EVERYDAY FOOD. It's a little tiny magazine published by Martha Stewart's company, and I find so many great and easy recipes in it. I have a subscription to it, but you can also usually find it on those racks right by the supermarket checkout — pick up a copy next time you are there and check it out. Anyway, they recently had a recipe for scallop kabobs, and because scallops cook in the blink of an eye, I thought maybe, just maybe, this is a kabob recipe that I can't mess up? Since the scallops and the veggies probably need the same amount of cooking time? Could it be?
It was. Glory Hallelujah.
The scallops are threaded onto the skewers with cucumber slices, orange sections, thin sliced ginger (note to self: ginger is for flavor. Ginger should be discarded before serving or your adventurous husband will eat it and it's always heart-wrenching to see a tough guy with tears in his eyes). The kabobs are basted with a honey/orange juice sauce, and take a grand total of 6 minutes on the grill. I de-skewered them onto a plate of brown rice and voila! Kabob-phobia officially cured.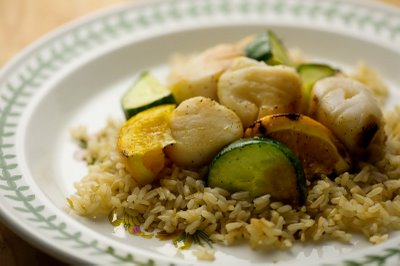 Now all I need is for someone to tell me the secret to making chicken and steak kabobs. Is there a Secret Kabob Society that I can join to learn some sort of special technique? Someone let me know. In the meantime, here is the recipe for scallop kabobs, adapted with thanks from EVERYDAY FOOD.
Scallop, Orange and Cucumber Kabobs
Ingredients
Olive oil
2 tablespoons honey
½ navel orange, halved and cut into wedges. Juice the other half and save juice for sauce.
8 thin slices peeled fresh ginger
½ cucumber, halved lengthwise and cut into ½ inch slices
1 pound large scallops
Salt and pepper
Instructions
Heat grill to medium and oil the grates.
Combine honey and juice in small bowl
On 4 skewers, thread orange wedges (through skin), cucumber, ginger and scallops, beginning and ending with oranges
Season with salt and pepper
Grill until scallops are done, turning once or twice and basting with honey mixture throughout grilling time, about 6 minutes
Serve over brown or white rice.