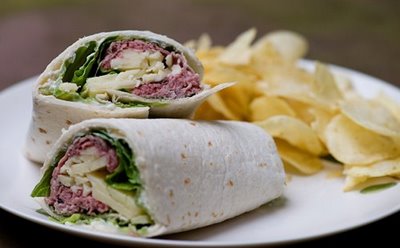 There was a movie in the mid-late 80's called ABOUT LAST NIGHT. It starred Demi Moore, Rob Lowe and Jim Belushi, and it was about this group of yuppies living in Chicago. Those of you who remember your Brat Pack movies will know what I am talking about!
Anyway, besides the really terrible wardrobe they put poor Demi Moore in, the most memorable part for me was the cooking arrangements. Two nights she cooked, two nights he cooked, two nights they went out, and the seventh night was Sandwich Night! How great an idea is that? So every once in a while, we have Sandwich Night. This is a distant cousin to Breakfast for Dinner Week, which we also do every once in a while — but that is a blog for another time.
Those of you who are my Facebook friends know that I post what I am making for dinner each night that morning, and when I posted that I was making Roast Beef and Cheddar Roll-ups, my friend Mari commented that she thought they would be good heated up with the cheese melted. Sadly for me I didn't see that post until AFTER I had already made, photographed and eaten mine, and since the recipe calls for making them cold I didn't get to try out this approach. But I think it has possibilities! I would lay out everything but the lettuce on the tortilla and nuke it for about 30 seconds and then add the lettuce and roll it. Next time! (Thanks, Mari!)
And so if you want to give Sandwich Night a try, the Southern husband and I recommend this quick little recipe listed below. Unless you are the teenager, in which Sandwich Night always looks like this: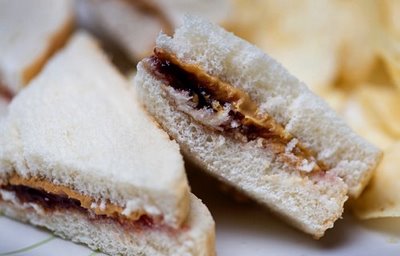 Because a girl can never get too much PB&J.
Roast Beef and Cheddar Roll-Ups
Ingredients
4 ounces cream cheese, softened
2 tablespoons prepared horseradish
4 large flour tortillas
Romaine lettuce leaves
8 ounces thinly sliced deli roast beef
4 ounces thinly sliced cheddar cheese
Instructions
In a small bowl, combine cream cheese and horseradish. Spread evenly over each tortilla.
Layer the tortillas with the lettuce, roast beef and cheddar. Roll up. Serve with kettle-cooked potato chips and give a cheer for Sandwich Night. Consider watching old movies from the 80's after dinner. Anything with Molly Ringwald is a great choice.
Nutrition Information
Serving size: 4
Note: all photos can be enlarged by clicking on them.