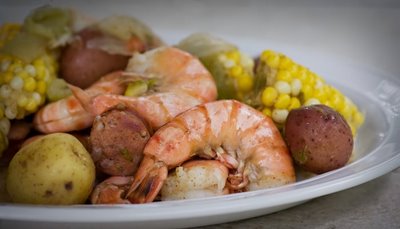 2 stalks of celery, cut in half
1 jalapeno pepper, cut in half lengthwise
1 medium onion, quartered
2 garlic cloves, smashed
2 tablespoons seafood seasoning (in the spice aisle, I like Chesapeake Bay)
1 pound baby red potatoes
2 ears corn, husked and cut into quarters
1 pound large shrimp, shells on
1 pound smoked andouille sausage, cut into 1 inch pieces
2 tablespoons melted butter
1 teaspoon Tabasco
1. In large pot, combine chile, celery, onion, garlic, 1 tablespoon seafood seasoning and 10 cups water, bring to a boil.
2. Add potatoes and simmer for 10 minutes until almost tender
3. Add corn and sausage and cook 5 minutes more.
4, Remove pot from heat and add shrimp. Let stand until shrimp are cooked through, about 90 seconds.
5. Reserve ¼ cup cooking liquid, drain shrimp mixture and return to pot.
6. Add butter, 1 tablespoon seasoning, hot sauce and reserved cooking liquid and toss.
7. Serve on butcher paper with lots of napkins and a rocking Southern soundtrack playing in the background.
8. Consider Krispy Kremes for dessert.
{Please close floating ads before printing.}
---
Article printed from Framed Cooks: http://www.framedcooks.com