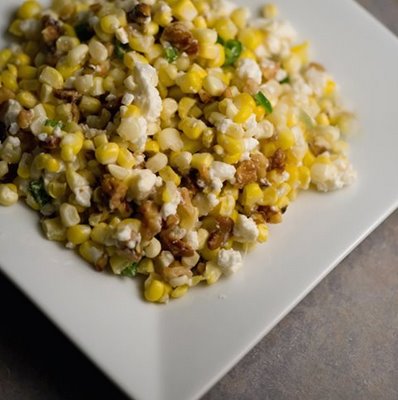 Yes, I know I am rushing the season a little, but I see those piles of corn on the cob at you-know-where (Fairway!) and I just lose all sense of self-control. I am a complete sucker for any recipe that involves scraping those delicious little kernels off the cob. With new corn you barely even have to cook it at all, and with almost any kind of mix-in and the tiniest bit of dressing you have an easy, scrumptious side dish that goes with just about anything you can throw on the grill. We happened to have a lovely ham steak, purchased in bulk at the Southern Husband's favorite emporium (that would be Costco), which we fully intended to grill but actually quickly pan-fried, given that we we living through the 739th consecutive day of RAIN here in beautiful northern New Jersey. At least the grass is happy.
Anyway, this corn dish can be whipped up pretty much in the time it takes to cook or grill whatever you are having alongside it. Along with ham, or steak, or chicken, this would be a great side for lobster. Mmmm, lobster. Later in the summer, for sure! One word to the wise: whenever you are working with jalapeno peppers, I highly recommend putting on some sort of gloves. The best kind are surgical gloves — you can buy them in boxes of 50 at any drugstore and I keep them in my kitchen for exactly this. Jalapenos are infused with oils/juices that gives this dish its peppery bite, but when you handle them to get the seeds out and chop them up, you will get some on your hands, and that oil is REALLY hard to completely wash off. As you might discover 2 hours after dinner when you rub your eyes — eeee-yowch! So, rubber gloves are your friend. And on that slightly alarming note, here is the recipe for this very lovely corn salad!
Corn Salad with Walnuts and Feta
Ingredients
1 cup walnuts
4 ears of corn, kernels sliced off, either raw or cooked
2 jalapeno peppers, seeded and chopped
2 tablespoons olive oil
2 tablespoons fresh lime juice
2 ounces crumbled feta cheese
Coarse salt, fresh ground pepper
Instructions
Preheat oven to 42Place walnuts on baking sheet and bake until fragrant, 6-8 minutes. Cool and coarsely chop. Set aside.
Combine corn, jalapenos, lime juice, oil, walnuts, feta cheese. Salt and pepper to taste. Toss lightly to combine.