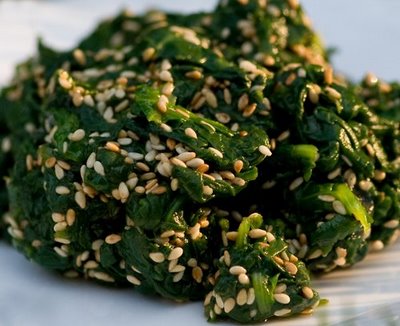 Coarse salt
2 pounds spinach, washed and stems trimmed
1½ tablespoons sesame oil
1½ tablespoons naturally brewed soy sauce
1/1/2 tablespoons rice vinegar
1½ tablespoons rice wine (rice wine? I used white wine. tasted just fine)
3 tablespoons toasted sesame seeds
1. Fill a large bowl with ice water, set aside.
2. Bring a large pot of water to boil, season with salt. Add spinach and cook until just wilted, about 30 seconds. Drain immediately in colander and plunge into ice water.
3. Let spinach cool completely, about 30 seconds, drain again. Using your hands, squeeze excess water out of spinach. When you think you are done squeezing, do it one more time. Spinach is absorbentstuff. Transfer to cutting board.
4. Coarsely chop spinach and place in medium bowl, set aside.
5. Meanwhile, whisk together oil, soy sauce, rice vinegar and wine. (I do this while the water is boiling). Add dressing and sesame seeds to the spinach, mix to combine.
6. Spinach may be refrigerated for up to 2 days. I, however, have trouble not eating it between mixing in the sesame seeds and putting it on the plate, that's how good it is. If you love spinach, that is.