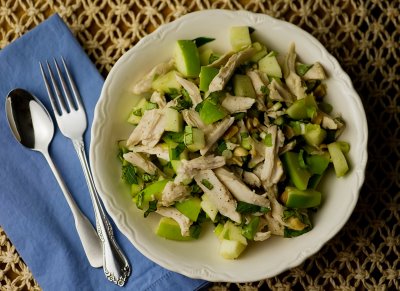 4 boneless skinless chicken breasts
4 teaspoons coarse salt
1 teaspoon black pepper
½ cup fresh lime juice (from 2-3 limes)
1 tablespoon white wine vinegar
2 tablespoons light brown sugar
4 scallions, thinly sliced
2 Granny Smith apples, cored and diced
½ cup chopped peanuts
2 tablespoons sliced mint
½ cup chopped basil
1. Pound chicken thin, place in saucepan and cover with water. Add 3 teaspoons salt and ½ teaspoon pepper and bring to low boil. Cook until cooked through, about 10 minutes. Transfer to bowl of ice water for 5 minutes.
2. Meanwhile, combine lime juice, vinegar and sugar in large bowl and stir until sugar is dissolved. Add scallions and apples and toss.
3. Dry chicken and shred into bite size pieces. Add to bowl with peanuts, mint and basil, along with remaining salt and pepper. Toss and serve.