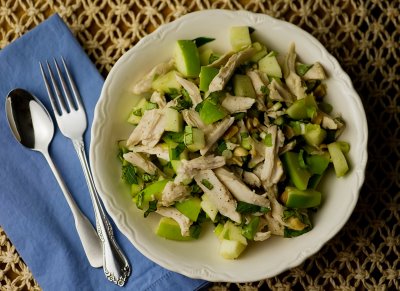 Chicken salad is one of those recipes like meatloaf, or macaroni and cheese, where I always think there might be a better version out there. So whenever I run across another one I try it, because you never know if the grass might be greener on the other side of the chicken salad fence.
This particular version is adapted from one of my other favorite magazines (and the only other one that I have a subscription to), and that is REAL SIMPLE. If my life as I fantasize about it could be turned into a magazine it would be this one. "Simplify," one of the most beautiful words in a working mother's life. For me it ranks up there with the words "nap" and "summer Friday." Anyway, this recipe is a nice light mayo-free chicken salad that has the extra added attraction of having a lot of basil as one of the ingredients. I love basil, and I plant it every spring, and it starts out looking all nice and well behaved, like this: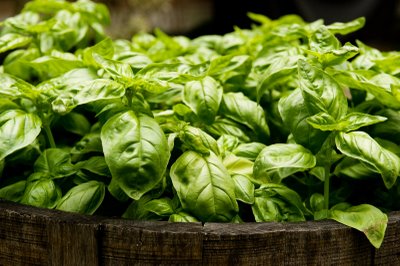 And several weeks later it is 15 feet tall and threatening to move into the house.
Anyway, this nice recipe calls for poaching the chicken, and I've included that part in the directions below, but my usual approach to chicken salad is to make grilled chicken with something else earlier in the week and to throw a few extra chicken breasts on the grill. Pop them in the fridge and then this recipe will go even faster a couple of days later.
So for those of you, like me, who never met a chicken salad recipe you didn't like, here's another good one for your collection.
Chicken Salad with Apple and Basil
Ingredients
4 boneless skinless chicken breasts
4 teaspoons coarse salt
1 teaspoon black pepper
½ cup fresh lime juice (from 2-3 limes)
1 tablespoon white wine vinegar
2 tablespoons light brown sugar
4 scallions, thinly sliced
2 Granny Smith apples, cored and diced
½ cup chopped peanuts
2 tablespoons sliced mint
½ cup chopped basil
Instructions
Pound chicken thin, place in saucepan and cover with water. Add 3 teaspoons salt and ½ teaspoon pepper and bring to low boil. Cook until cooked through, about 10 minutes. Transfer to bowl of ice water for 5 minutes.
Meanwhile, combine lime juice, vinegar and sugar in large bowl and stir until sugar is dissolved. Add scallions and apples and toss.
Dry chicken and shred into bite size pieces. Add to bowl with peanuts, mint and basil, along with remaining salt and pepper. Toss and serve.