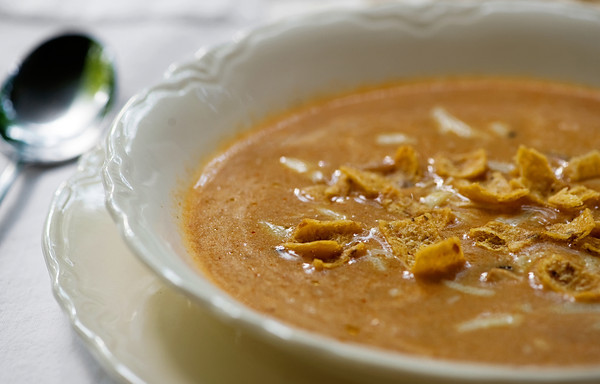 Yes, you are seeing things correctly — those ARE in fact Fritos floating on the top of this soup.  I can explain.
At one point in my obsession with collecting cookbooks, I had one called something like, "Best Recipes From The Back Of Jars And Boxes." Or something like that. I tried to find it the other day in my ever-expanding cookbook collection. I love my cookbook collection, but it has gotten big enough that it is kinda hard to find any one particular thing you are looking for.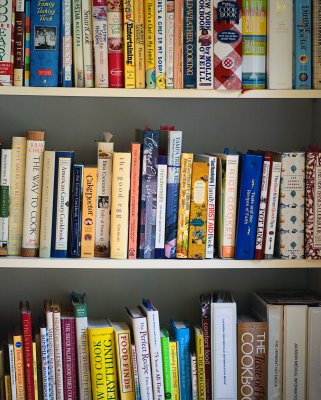 (By the way, I just noticed that there is a book called Family First Aid Book right in the middle of all the cookbooks. Um.)
Anyway, I can't seem to lay my hands on that cookbook, but I know I have it somewhere and today's recipe is in that particular culinary genre: the "back of the box" category. And all I can say is, don't knock it until you've tried it, because this recipe (among various others in my motley collection) is a rocking good soup. This recipe was inspired by one the back of the Old El Paso Enchilada Sauce can and then doctored it up a bit (among other things, the Fritos are my own addition, thank you very much!). It's a great thing to do with leftover chicken, and is one of those last minute dishes that you can whip up very quickly if you have the right stuff in the pantry.So keep an eye on the back of those boxes and cans in your pantry, because every now and again you do run across what we call in our house "a keeper." This one is a keeper. So with a nod to my friends at Old El Paso…
Chicken Enchilada Soup
Ingredients
Two 10 oz cans cream of chicken soup
One 10 oz can enchilada sauce
2 cups milk
1 cup shredded cheddar cheese
Shredded chicken -- as much as you like! (I like a lot)
½ cup broken Fritos
Instructions
Mix all ingredients except Fritos in medium saucepan
Cook over medium heat, stirring, until thoroughly heated and cheese is melted
Ladle into soup bowls and garnish with Fritos
If you want to get REALLY elegant, you can also top with chopped tomato, or avocado, or sour cream. But nothing really tops Fritos if we are being totally honest, right?