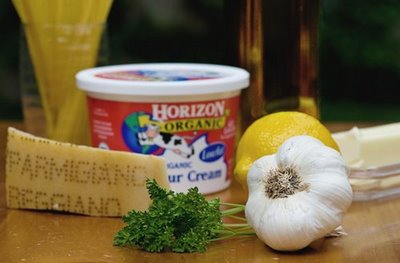 Ingredients
1 pound thin spaghetti
4 tablespoons butter
2 tablespoons olive oil
2 cloves garlic, minced
Juice and zest of one lemon
2 cups sour cream
1/2 teaspoon salt
Plenty of grated Parmesan cheese
Chopped parsley
Extra lemon juice
Directions
1. Preheat oven to 375
2. Cook spaghetti according to package directions until al dente.
3. Melt butter with olive oil in a skillet over low heat. Add minced garlic and squeeze lemon juice into pan. Turn off heat.
4. Add sour cream and stir. Add lemon zest and salt. Pour mixture over drained spaghetti and stir. Pour into oven-safe dish.
5. Baked, covered, for 15 minutes. Uncover and bake for 7-10 minutes more. Remove from oven and squeeze more lemon juice on top. Top generously with Parmesan cheese, then chopped parsley. Give a final squeeze of lemon juice on top. Serve with French bread and green salad.