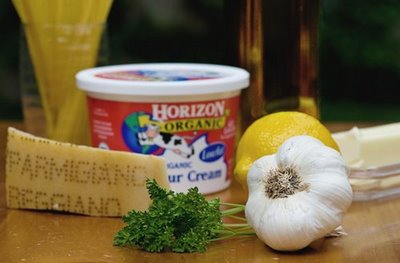 There is this website that I ran across when I was trolling around for recipes one day, and you'll have to forgive me if I gush all over the place while telling you about it. It is called The Pioneer Woman, and today's recipe comes straight from this site. The site belongs to Ree Drummond. She lives on a ranch in Oklahoma with her husband and her four kids, and how she does everything she does all day long — well, it makes me exhausted just to READ about it. In addition to everything involved with running a ranch that looks like it has an endless number of horses, dogs, cows and visitors, she also homeschools her four kids, cooks an endless array of incredible-looking dishes, and is one amazing photographer. And…wait for it…this fall she has what will surely be a spectacular book coming out from William Morrow Cookbooks (which yes, is a division of HarperCollins!). Heaven! For me it doesn't get any better – a website that combines fantastic recipes with beautiful photography, and Ree's ongoing photography tips as well. So be sure to check out her amazing website, which you can find here:
And here is her delicious recipe for Baked Lemon Pasta!
Baked Lemon Pasta
Ingredients
1 pound thin spaghetti
4 tablespoons butter
2 tablespoons olive oil
2 cloves garlic, minced
Juice and zest of one lemon
2 cups sour cream
½ teaspoon salt
Plenty of grated Parmesan cheese
Chopped parsley
Extra lemon juice
Instructions
Preheat oven to 375
Cook spaghetti according to package directions until al dente.
Melt butter with olive oil in a skillet over low heat. Add minced garlic and squeeze lemon juice into pan. Turn off heat.
Add sour cream and stir. Add lemon zest and salt. Pour mixture over drained spaghetti and stir. Pour into oven-safe dish.
Baked, covered, for 15 minutes. Uncover and bake for 7-10 minutes more. Remove from oven and squeeze more lemon juice on top. Top generously with Parmesan cheese, then chopped parsley. Give a final squeeze of lemon juice on top. Serve with French bread and green salad.
Be sure to visit the Pioneer Woman site for more fantastic recipes like this one. Tell her I say hello.